Article Date : 5/31/2023 | Category: SERVICES ANNOUNCEMENTS
Coagulation Laboratory Services and New Test Offerings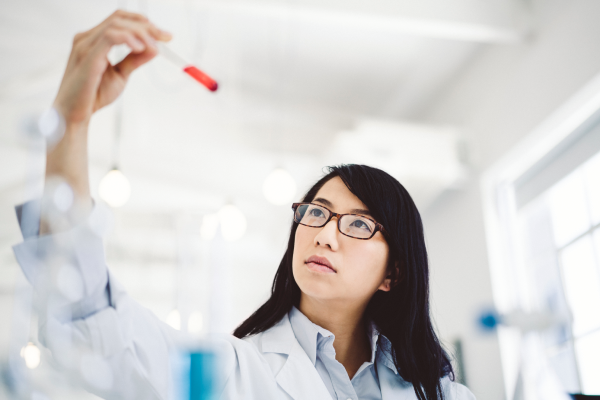 The Vitalant Coagulation Laboratory is a full-service reference laboratory specializing in functional coagulation testing. With more than 120 test offerings and 35 years of serving the medical community, it proudly offers both gold standard and esoteric coagulation testing to more than 100 clients throughout the United States.
The Coagulation Lab's comprehensive test menu allows us to offer full coagulation workups for disorders associated with bleeding and clotting issues such as lupus anticoagulant/antiphospholipid antibody syndrome, von Willebrand disease, and other clinical issues such as impaired platelet function and fibrinolysis, as well as hypercoagulable states. The lab also works extensively with industry and independent investigators, offering research testing and expertise to help advance discovery on blood-related diseases.
The Coagulation Laboratory recently added new test offerings to assist with coagulation disease diagnosis, including:
Lupus Anticoagulant Testing with DOAC removal (Rivaroxaban and Apixaban only)
Antiphosphatidylserine/Prothrombin Complex (aPS/PT) IgG and IgM Antibody Testing
Von Willebrand Factor Activity (GP1bM)
Platelet Glycoprotein Antigen Level (Flow Cytometry)
Lupus Anticoagulant Testing with DOAC Removal (Rivaroxaban and Apixaban only)
Direct oral anticoagulants (DOAC) such as Rivaroxaban (Xarelto) and Apixaban (Eliquis) can interfere with lupus anticoagulant testing causing false-positive or false-negative test results. Lupus Anticoagulant Testing after the DOAC removal process from plasma can yield more accurate results and clinicians will no longer have to consider removing a patient from DOAC use just to perform LAC testing.
aPS/PT IgG and IgM Antibody Testing
Antibodies against phosphatidylserine/prothrombin complexes are highly associated with thrombosis and poor obstetrical outcomes. The aPS/PT ELISA has a very high correlation with the presence or absence of a lupus anticoagulant and may be especially helpful for thrombotic risk assessment when LAC testing results are not definitive or difficult to interpret.
Von Willebrand Factor Activity (GP1bM)
This FDA approved assay has been shown to have superior performance compared to the ristocetin cofactor activity (VWF:RCo) assay when measuring von Willebrand Factor Activity.
Platelet Surface Glycoprotein Antigen Level (Flow Cytometry)
Platelet flow cytometric analysis is the preferred method to assess hereditary platelet disorders due to the ability to detect surface glycoprotein deficiencies, which are associated with significant bleeding issues.
This testing is useful for:
The diagnosis of Glanzmann thrombasthenia and Bernard Soulier Syndrome.
Identification of collagen receptor deficiency.
This testing may be helpful as follow-up testing for patients with abnormal platelet aggregation by light transmission aggregometry (LTA).
The Vitalant Coagulation Laboratory is a unique laboratory in that our services also include physician consultation and physician interpretation for test panels, which assist providers with urgent disease diagnosis and next steps in patient care. Our leadership team at the Vitalant Coagulation Laboratory includes physicians, scientists and board-certified laboratory geneticists with decades of experience in the laboratory evaluation of bleeding and clotting disorders.
For more information about Vitalant Coagulation Laboratory capabilities, please visit us online, call 412-209-7270 or contact us through our web form.